This week I've been working on this glass art piece of a koi pond using enamels for glass. I've never worked with this material before but I am really enjoying it and like the effect.  The image shows the piece after the first firing, with the second layer of glass enamel applied. Just waiting to be fired again.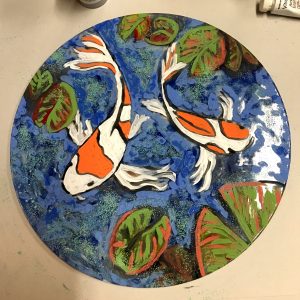 The Process
First I create a drawing on the high fire paper (the paper that acts as a kiln separator to keep the glass from sticking to the kiln shelf), then I begin to add the details using the glass enamel mixed with a medium to make it paint-like. I also use the enamel as a powder as you may notice in this image (you can see the green 'dust' on the water.) I've fired this piece twice, with layers of enamel added each time, to get the desired effect. I might fire them anywhere from 2-5 times depending oh how they come out.
This is a great way to create glass art that has a more painterly feel. The possibilities seem endless when creating kiln fired glass art!
I will display the piece in a metal stand when completed.
Check out more of my art at NancyDaviesTang.com
I've also been working on a project for Habitat for Humanity that you might like to see HERE.
Nancy Davies Tang. Title:  Koi Pond. Medium: Kiln fired glass and glass enamels. Price: $450